Hosted inventory management software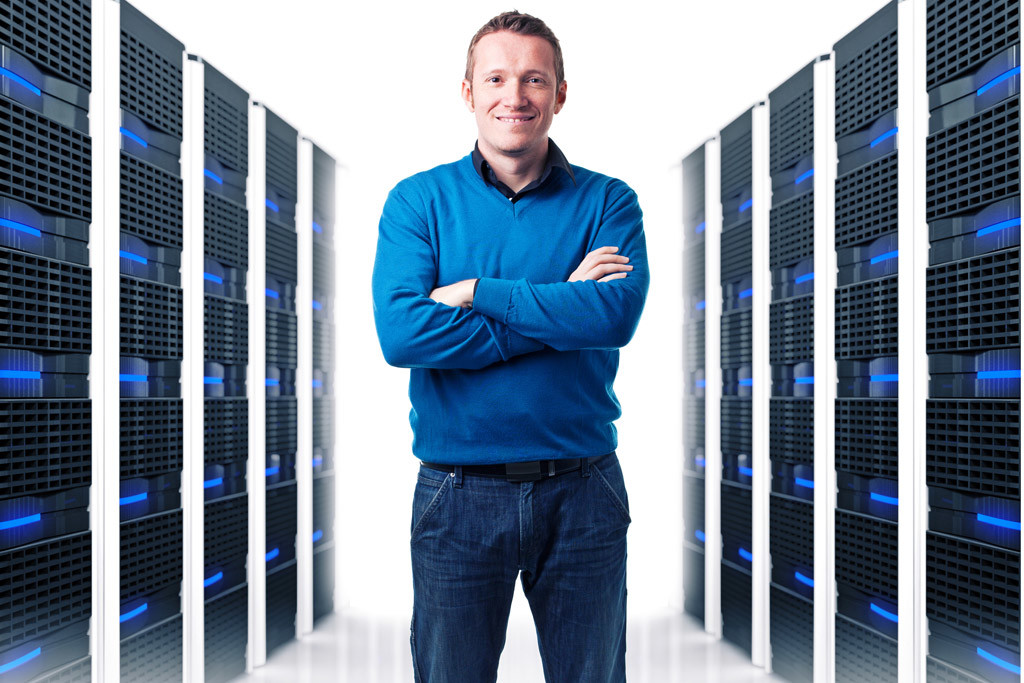 Hosted inventory management software provides inventory control, purchasing, order management & fulfillment, and business management capabilities via the cloud.
Hosted inventory management software
Tired of the overhead of managing IT resources? Redeploy your IT resources, while your business & inventory management system is managed and maintained by IT professionals, with the Acctivate hosted inventory management software solution.
Inventory management in the cloud can help minimize or eliminate not having the ability to access files on a desktop in a different location, improves worker collaboration, and reduces IT infrastructure and overhead.
The hardware and software you need to run your business is "in the cloud," which is really a hosted computing service provider with huge amounts of hardware & storage and skilled professionals that manage & maintain applications ensuring they are secure, up-to-date, and backed-up.
Acctivate hosted solutions enable web access by everyone in your company, regardless of their location, to award-winning Acctivate, the most feature-rich business and inventory management system available. With your software running on Right Networks®, Noobeh, GoToMyERP, or Summit Hosting® advanced hosting solutions, you'll gain the peace of mind that comes from knowing your business systems are secure, up-to-date, backed-up and well-maintained.
Hosted inventory management software: How it works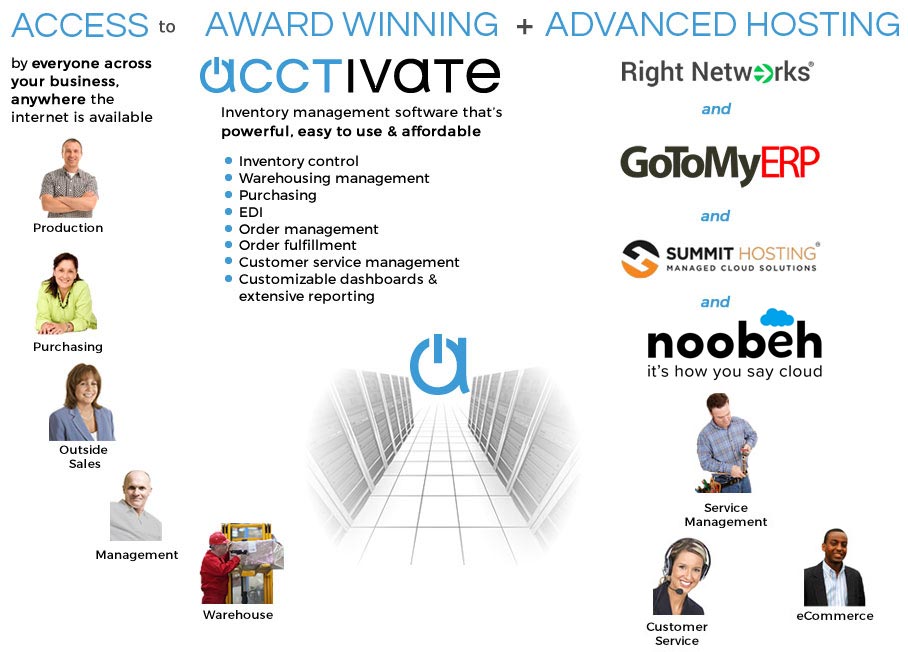 Users access Acctivate's hosted inventory management software via one the hosting solutions choices listed above. Everyone across your business granted access by you can access Acctivate from anywhere internet is available. Acctivate inventory management software is powerful, easy to use and affordable and provides inventory and warehouse management, advanced purchasing, order management and fulfillment, and much more.
Hosted inventory management software benefits
Have you ever…
…been away from the office and wished that you could access something on your desktop?
…had people working in multiple places with collaboration restricted by geography?
…thought about disaster recovery or built a redundant infrastructure?
…wished you had access to highly skilled IT people?
…had a computer crash and lost your data?
Frustrating. Expensive. Time-consuming.
---
In a recent survey of small business owners:
75% felt that a crashed computer was more disruptive than a sick employee
75% said that a tech malfunction had negatively affected their business through a missed deadline or opportunity
52% believe that investing in their business can give them an advantage over competitors
51% said that they prioritize technology tool-related capital investments such as new software, mobile apps and cloud computing services
Source: Brother Small Business Survey Wakefield Research
Hosted business and inventory management can help minimize or eliminate these issues and more. Hosted business solutions have become a key part of the business strategy for businesses both from an operational standpoint and as a service delivery option and businesses are discovering how hosted computing can be their competitive advantage and over half are prioritizing it in their business.
Developing a hosted inventory management software strategy
Many small and mid-sized businesses are wondering if a hosted inventory management software solution offers a strategic advantage for their growing businesses. Like all business decisions, that depends on your business and your business strategy.
As hosted computing continues to grow, businesses can begin a cloud strategy by determining where the cloud will provide the most value for their business. By focusing on the business value of a hosted solution – efficiency, improved flexibility & mobility, less operational issues, better use of resources, access to expertise – businesses can set out a hosted strategy aligned with their business goals.
The strategy should also account for the potentially significant change in the way the business operates – processes may need revised, policies and procedures updated.
Is hosted inventory management software right for your business?
Good news. It's your choice.
Acctivate is available on-premise or hosted – letting you choose which deployment is right for your business.
Acctivate brings decades of business, technology & accounting knowledge and real-world experience to cloud-based inventory management and to its premise offering, with the tools growing companies need to manage their businesses more effectively and improve productivity and profitability.
The same power and functionality in an affordable, easy to use on-premise or cloud-based inventory management solution that…
Transforms business operations with best-in-class inventory control, warehousing, purchasing & order fulfillment.
Places real-time access to prospect, customer, vendor & company performance information at your fingertips.
Manages & tracks leads, prospects, contact, credit and the sales pipeline.
Provides access to all customer orders, returns, communications, issues and history to everyone in the company.
Helps you maximize and grow your business, presenting the real-time information you need, organized how you want to see it – via customizable dashboards, decision support & analytical tools, or standard or custom reports.
Discover Acctivate
Acctivate is packed with
features
for your entire business. Talk to our team of product experts and see if Acctivate is right for your business.
Call us at 817-870-1311