Don't ditch QuickBooks for an ERP software. There's a better way.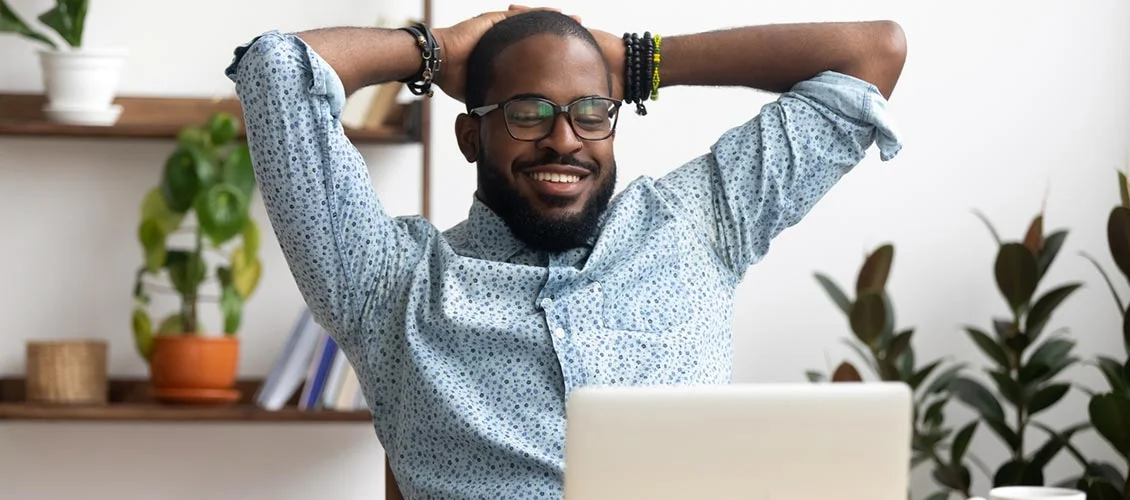 Grow your business with no regrets. Invest in an ERP alternative that works with QuickBooks.
Don't scrap QuickBooks for a costly, complex mid-market ERP system.
Integrate QuickBooks with Acctivate Inventory Software.
---
An ERP alternative: More bang for the buck
ERP solutions demand a considerable amount of financial investment that exists in many parts, including the initial purchase, implementation, customization needs, annual fees, support and maintenance, and any hiring needs for the new system. Acctivate for QuickBooks, as an ERP alternative, supports smaller businesses with an ERP solution equivalent or superior, economical functionality.
---
What's an ERP alternative?
An ERP alternative is an option for growing businesses looking to expand their operational capabilities with software rather than settling for a mid-market ERP software not built for SMBs with a high price tag and overserving functionality.

A mid-market ERP solution is a gargantuan system, which is typically excessive for SMBs with inflexibilities per its monolithic nature. While an ERP alternative, like Acctivate Inventory Software for QuickBooks, is more of a best of breed solution as it combines the power of Acctivate + QuickBooks, in addition to other solutions if needed, such as for eCommerce and EDI, to form a flexible, affordable complete business management solution.
5 pitfalls of ERP systems
Consider an ERP alternative to avoid initial and long-term damages
#1 | Hidden Costs
Bottom line… ERP solutions are expensive. On top of the initial sticker-price that can be 2-3x that of an ERP alternative, hidden costs are exposed as ERP software projects progress and after go-live. Unexpected costs (i.e., business process change, organizational change management, data migration, testing, support/maintenance, training, customizations) and budget overruns are typical with an ERP solution.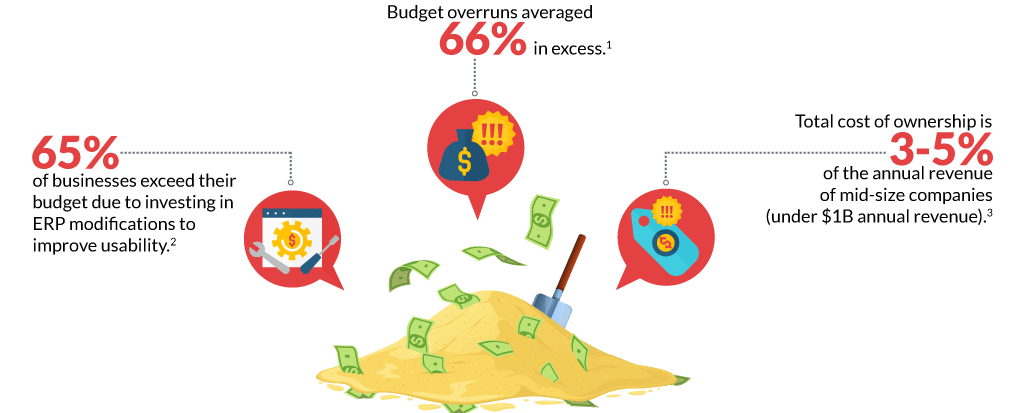 Mid-market to large scale ERP systems drain companies of millions of dollars in the total cost of ownership (TCO).
Based on a historical five year average of projects performed by Excelym5, NetSuite TCO is $174,500 for the first three years with a recurring $30K fee for SaaS. The TCO is an example based on companies with at least $12 million in annual revenue and 50+ employees undergoing a traditional implementation package via a NetSuite partner. Another mid-market ERP solution, Acumatica, has an estimated TCO (based on a Forrester report6) of over $2 million for the first three years.
#2 | lengthy, complicated implementation
Frustration mounts as an expected fresh start with an ERP software commonly becomes drawn-out, adversely affecting budgets and staff resources. On the other hand, Acctivate as an ERP alternative is a remotely guided 90-day onboarding experience.
#3 | Difficult to learn and use
ERP software is inherently complicated, which makes for intimidating and intense training, as well as a cumbersome user experience. Oftentimes, training is an inconspicuous addition to an ERP software proposal that leaves businesses unaware of the scope, timeline or budget allocation needed.

#4 | Significant disruption & productivity loss
Lengthy implementation timelines, steep learning curves, and poor overall user experiences and interfaces play into the all-too-common delays caused by ERP software.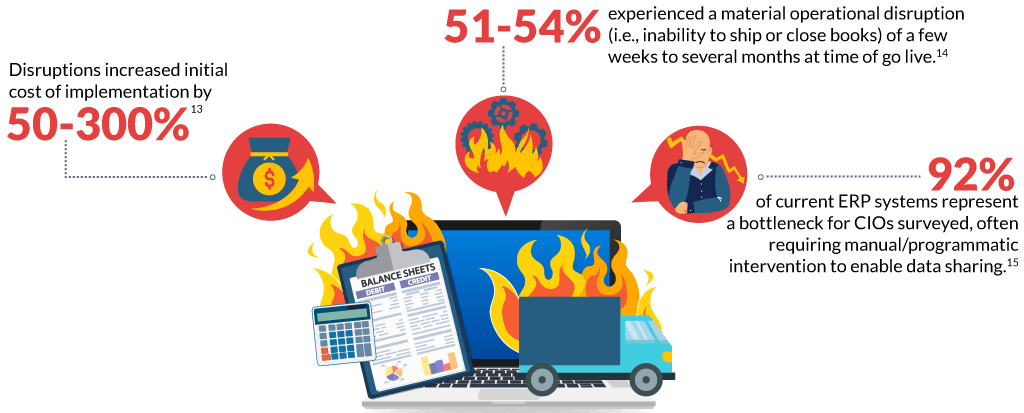 #5 | Poor software fit
Many small to midsized business are sucked into the hype surrounding ERP software, but the reality is that it can be overkill for such businesses. Don't go for the bells and whistles, but rather the nuts and bolts that power operational success—an ERP alternative is designed for SMBs and prioritizes their needs to meet growth demands and expectations.
An ERP alternative: Stick with QuickBooks
Why endure the risks and challenges of starting from scratch?
With QuickBooks already managing financials—stick with it. Rather than "rip & replace", enhance QuickBooks with a seamless integration to Acctivate.
Behind transitioning from a lesser-known system or no system at all, research reports that most companies moving to an ERP software for the first time are coming from QuickBooks to handle more than just accounting.16
The good news is that the ERP alternative of Acctivate + QuickBooks provides all the functions that a costly, complex ERP system provides, but at a fraction of the cost and with way less hassle to implement, learn, get started, operate, and continuously thrive. Plus, financial staff do not have to learn a new program, they can continue with QuickBooks—a reliable, familiar, SMB-suited solution.
Acctivate + QuickBooks delivers similar benefits as the top three reasons to implement an ERP system…17
Increase efficiency
Support growth
Greater functionality
Among the features that businesses are looking for in an ERP solution as highlighted in the graph below, Acctivate + QuickBooks provides them all…
---
Sources:
1Panorama Consulting Group, The 2020 ERP Report
2 Ibid.
3Third Stage Consulting Group, 2020 ERP and HCM Report
4Panorama Consulting Group, 2021 Clash of the Titans
5Excelym, Netsuite: Total Cost of Ownership
6A Forrester Total Economic Impact™ Study Commissioned By Acumatica, The Total Economic Impact™ Of Acumatica
7Technology Evaluation Centers, Facts & Stats on ERP Systems
8 Ibid.
9 Ibid.
10 2020 ERP and HCM Report
11Ventana Research, Next-Generation Enterprise Resource Planning
12 Ibid.
13 2020 ERP and HCM Report
14 Ibid
15Accenture, 2019 ERP Trends
16Software Path, 2022 ERP Software Report
17Ibid.
18Ibid.
Grow your business with no regrets